The #1 on-chain DeFi charting platform. ApeSpace is an all-in-one DeFi trading tools platform leveraging the fastest, most accurate on-chain data available.
After using our platform, other trading tools will become as obsolete in your daily routine as the iPod Touch.
Our tools were designed to help customers beat the market. We accomplish this is several ways:
30% faster real-time data than leading competitors to give our retail traders an edge

Scam prevention through perpetual honeypot and tax checks to triple-check your investment decisions

Advanced charting features and trading analytics that provide insights to both fundamental and technical traders

300% faster display of charts to give you back your most valuable resource: time
The Protocol
The ApeSpace DApp provides an intuitive UX for all DeFi experience levels. Our protocol's features are sophisticated for involved traders, but approachable for retail investors.
Experience a comprehensive market overview as soon as you land on our homepage. With just one glance, you'll be able to gain valuable insights and stay up-to-date on the latest market trends!
Get ready to dive deeper into the market with our in-depth pair analysis. From our home page, you can easily navigate to any token and get a closer look at its performance and trends. Whether you're interested in a specific token or just want to get a better understanding of the market as a whole, our detailed pair analysis provides the insights and information you need. Don't miss this opportunity to gain a competitive edge and make informed decisions.
Why We Started ApeSpace
Our founders are traders, investors, and DeFi enthusiasts at heart. We grew increasingly frustrated with the inefficiencies and "user second" approach of popular crypto trading tools. Here's where they fall short:
Lagging data that can make or break time-sensitive trades

Trending tokens that are often boosted by back-door deals

Very few preventative mechanisms to minimize retail scams
ApeSpace is hyper-focused on solving these problems for our users. We're an experienced team of builders with a client-first stance that's reflected in every protocol decision.
We're founded on accuracy, speed, and transparency — all to make you a more profitable crypto trader.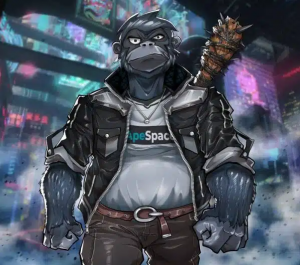 Real-time Data
Our trading and price data is 5 to 10 seconds faster than the leading competitor on BSC. This is a 30% decrease in the time it takes data to reach our platform. It's a massive advantage for traders who use ApeSpace. A brief example:
You're courtside at an NBA basketball game and pull up your favorite sports betting app. In the app, you're able to wager on real-time bets, like which team is most likely to score next. Naturally, whoever is in possession of the ball at any given time has the better odds on this bet.
Imagine there's a turnover, and you of course see it in real-time. Before the sports betting app updates the odds, you place a position on the team that just acquired possession. The app was only a few seconds behind, but it made all the difference. Once the app receives the turnover data, the odds flip, and your bet is instantly in the green.
That's the power of truly real-time data. ApeSpace's prompt data feed allows you to sit courtside on every trade.
Scam Prevention
Customer obsession is a pillar of ApeSpace's values. In talking with 100+ traders and investors across the space, we were met with consistent complaints regarding:
Tokens that can be bought but not sold ("honeypot")

Tokens with undisclosed buy & sell taxes

Tokens with unverified contracts and hidden sell limits
These concerns didn't fall on deaf ears. Our founders have faced similar setbacks in their trading and knew a robust scam prevention feature was critical to the ApeSpace infrastructure. Existing trading tools are spotty and inconsistent in their coverage of these metrics. ApeSpace provides them all with a Token Audit sidebar: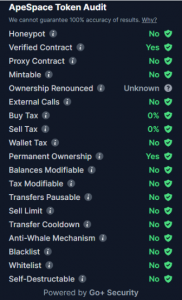 All of our scam prevention indicators are constantly monitored and updated in real-time. If a token spontaneously implements a sell tax, you'll know immediately. With our Token Audit 
tool, traders no longer need to sort through contract addresses and several analytics tools to find safe trades. All the indicators needed to gauge a token's fairness are available in your ApeSpace experience.
There's no doubt our tools are industry-leading. The best part is — we're just getting started.
Next Up on the Roadmap
We have several initiatives on the roadmap for the first 2 quarters in 2023. A few are of the highest priority:
Integrating 0x and 1inch to enable in-platform trading of all tokens

Building in support for the Ethereum, Avalanche, Polygon, and Fantom blockchains

Finalizing partnerships with high-impact protocols in the space

Deploying resources to a full-scale marketing effort
We have unwavering confidence in the skillset and poise of our core team. As always, the user will be at the forefront of every decision. Join us in our pursuit to become the dominant cross-chain charting tools platform. So make sure you head over to our Discover page to find your next 100x gem.
https://twitter.com/ApeSpaceIO